PIPPA MACKIE
Pippa is a Vancouver based actor/writer/producer and a graduate of the National Theatre School of Canada's Acting Program. She is a Jessie Richardson Nominee and Vancouver Sun's Artist to Watch in 2013. As an actor Pippa has performed with such companies as: Arts Club, Gateway Theatre, Belfry Theatre, Rumble Theatre, The Escape Artists, Green Thumb Theatre, Blackbird Theatre, Staircase theatre, Delinquent Theatre and many more. She has appeared in such TV shows as: Psych, Level Up, the 100 and Supernatural.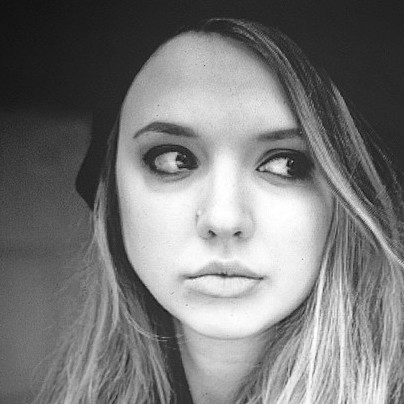 MILY MUMFORD
Mily Mumford is a playwright/director/performer/designer/scientist shapeshifter originally from Victoria BC. She is the artistic director of Nebula Company Theatre in Vancouver, which focuses on immersive, political theatre from diverse voices and viewpoints while integrating themes and tropes of science fiction. Their recent show Frankenstein, 1945 and upcoming Generation Post Script are both a part of Theatre Wire's subscription season. Mumford and Nebula Company also have an upcoming show in this year's Vancouver Fringe Festival We Were Always Scientists which is a comedy about the history of women in science.
Mumford has had work produced with companies across BC such as Theatre Skam, Puente Theatre, Intrepid Theatre, Delinquent Theatre, Little Mountain Lion Productions, Atomic Vaudeville, The Firehall Arts Centre, and The Only Animal. Mumford was a playwright-in-residence with Delinquent Theatre with her show Love is for Superbeasts, a writing and production intern with Atomic Vaudeville with Generation Post Script and was a director in Rumble's 2016 Director's Lab under Kim Collier. This February she is developing a new show Leave Me to The Uncanny Valley through Boca De Lupo's space residency. She is a graduate of biotechnology and creative writing from Camosun College and Neuroscience from the University of Victoria. She delights in the intersections of theatre, science, technology and gaming.
MACK GORDON
This is Mack's fifth time participating in the Pull Festival (four times as a writer and once as a director). Previous pieces for Pull include: The Only Difference Between Me and Peter Bogdanovich, Day Dreaming, and last year's Washington Square. His produced full length plays are Three Stories Up (Alley Theatre), Debts (ITSAZOO Productions), and Shake the Sheets (Level-Headed Friends Productions). His other shorts include The Ballad of the Burning Lady (WCT), Visitors (cowritten by Peter Carlone for Upintheair's Walking Fish Festival), and Five Red Balloons (ITSAZOO Productions). Mack will be going on a 2017 Fringe Festival tour to Edmonton, Victoria, and Vancouver with a new piece tentatively titled Six Fine Lines. Follow on Twitter @mackgord, check the website www.mackgordontheatre.com, read the blogs medium.com/@mackgord.
KEVIN HATCH
Kevin is beyond thrilled to be taking part of his very first Pull Festival, and couldn't be more proud of the fantastic team bringing his wacky play to life! Previously, Kevin has collaborated on numerous pieces for UBC's Dionysia Festival, including Foreplay (Director; 2015) and Cephalopod Love Story (Writer/Director; 2014), a tale of lovesick squids doomed to die, which he also cameoed in as a starfish. As an actor, Kevin has recently appeared on stage in productions of Alan Bennett's People (United Players; 2015), Just Watch Me: A Trudeau Rock Musical (2016) and Lovelash: The Musical (2014) for the Vancouver Fringe Festival, and A Memory, a Monologue, a Rant, and a Prayer (2014) and Fame (2013) at UBC. As his 'day job,' Kevin proudly works at Arts Umbrella as Student Services Coordinator and a Theatre Instructor. Thanks to Scott and Hillary for the chat that helped birth this wacky idea, and immeasurable gratitude and love to Kristy, as always. Enjoy the show!
KEARA BARNES
Keara is an actor, writer and producer from Vancouver, B.C and the Co-Founder/Co-Managing Director of Standing Room Only Theatre. She holds a BFA in Theatre from UVic, studied at the Lee Strasberg Theatre & Film Institute in New York, and most recently completed the Arts Club Actors Intensive. Keara is the Blogger Coordinator for the GVPTA and has worked as a theatre reviewer for the Edinburgh International Fringe Festival. Keara is an emerging playwright, having worked with Fishamble: The New Play Company in Dublin, Playwrights Theatre Centre and The Wet Ink Collective in Vancouver, and is currently developing two new plays.
Recent acting credits include: The Mystery Plays (Little Mountain Lion Productions), her one woman show Almost a Stepmom (2016 Shift One Act Festival & 2016 Calgary Fringe Festival *winner of the Emerging Artist Award), Moll in Moll (SRO Theatre/Celticfest Vancouver 2016), The Motherers (2016 Pull Festival), Lady Macbeth in Macbeth (SRO Theatre), Olya the Child (Troika Collective/2015 Vancouver Fringe Festival), The Weir (SRO Theatre/Celticfest Vancouver 2015) Hug (2014 Edinburgh International Fringe Festival), The Mikado and The Hollow (Metro Theatre), Waiting for Ghostbusters (Genus Theatre), Phoebe in As you Like it (Kaleidoscope Theatre), as well as various short films. Upcoming: Hello (Theatre Terrific) in May 2017, and Almost a Stepmom at the 2017 Vancouver Celticfest and the 2017 Winnipeg Fringe Festival.
http://www.kearabarnes.com / www.standingroomonlytheatre.org
DALE MACDONALD
Dale MacDonald is an emerging writer, director, and all-in-one theatre artist. A recent graduate of the University of Alberta; this is the first time his playwriting is being produced for the stage. Recent directing works include Ode to a Camping Trip at Brave New PlayRites Festival and assistant directing United Player's The Lion in Winter. Dale also occasionally writes as a critic and promotor for the theatre community in Vancouver; all of his work can be found at Daily Hive online publication.