MARCH 21- 24, 2018
LITTLE MOUNTAIN GALLERY
195 E 26TH AVE, VANCOUVER, BC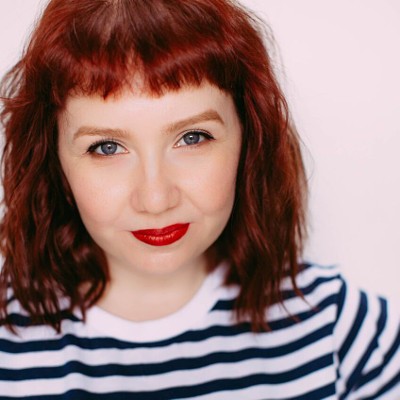 CHEYENNE MABBERLEY
Cheyenne Mabberley is an actress, comedian, and writer from Vancouver BC. Classically trained at Canada's renowned Studio 58, Cheyenne is best known for her show, The After After Party that garnered her notoriety throughout Vancouver's theatre community by picking up the "Critics Choice Award" (The Georgia Straight), "Cultchivating Award" (Vancouver Fringe), as well as Vancouver's "Pick of the Fringe" for 2016.
An advocate for women in the arts, Cheyenne is focused on fostering new female work, including The Virago Play Series and her own not-for-profit organization, After Party Theatre Society. Her produced plays include Karaoke: The Musical (Studio 58,) The New Years Party, The After Party (Pull Festival, Speakeasy Theatre) and The Tiebreaker & The Bush Party (Theatre SKAM.) Cheyenne is committed to writing fierce, female forward plays with heart. Her recent collaboration with Pi Theatres' Provacateurs Series has granted her four uncensored, unabashed, all-female satirical comedic presentations throughout Pi's 2017/2018 season.
Cheyenne is also a successful makeup FX artist, costume designer, and scenic painter, having worked for incredible Vancouver professional companies such as The Arts Club (Angels in America,) Pacific Theatre (The Whipping Man,) Green Thumb (Land of Trash,) Pi (Blasted, Invisible Hand,) and ITSAZOO (The Competition is Fierce, Hidden.) Recently, Cheyenne appeared in a guest role on Bravo's The Imposters as well as the French-Canadian medical mystery series, Maux Mysteries.
​
KATEY HOFFMAN
Katey is a Vancouver-based actor and writer. As a playwright, she co-wrote The Surrealists, Karaoke: The Musical (Studio 58), The After Party, The New Years Party (Pull Fest), The Bush Party, The Tie Breaker (Theatre SKAM). Recently, Katey and her partner in crime, Cheyenne Mabberley, wrote and performed in the acclaimed The After After Party which received Pick of the Fringe, The Georgia Straight Critic's Award, and will be featured in the Cultch's 2017/2018 season. Last November, her coming-of-age memory play, Green Lake, was produced by Solo Collective and nominated for 6 Jessie Richardson awards including Outstanding Production, winning Jessie's for Outstanding Actress in a Lead Role and Outstanding Direction. As an actor, she has worked for companies such as Green Thumb, Carousel, Caravan Farm, Firehall, Arts Club, Solo Collective, Yogurt, and ATP and this year you can see her on ABC's When We Rise as well as Nickelodeon's Escape from Mr. Lemoncello's Library. Katey is a Betty Mitchell nominee, Calgary Critic's Award winner, recipient of the Touchstone Theatre and Jennifer Wade Scholarships, and a graduate of Studio 58.
​
THE PLAYS
The Black Shawl by Sherry MacDonald
A young woman tries to piece together the events that led her to the edge of railway tracks, an empty baby carriage beside her.
Candyland by Donal Thoms-Capello
Actor Rob Everfield is one take away from finishing a long day of filming. An extra's unwitting annoyance, however, prompts him to dole out professional advice- leading him down an unplanned path of examining the industry, the world, and himself.
An Assertive Girl by Allyson Fournier
A young woman confronts the man she has accused of raping her, but the conversation doesn't go the way she'd hoped.
Real Company by Jessica Harvey
When human relationships are commodified, is it possible to truly connect?
Her / Them by Pippa Mackie
Her meets Them. What happens next is scary.
Teddy Bears by Jordy Matheson.
Two men come together late one night. Both have secrets. Both are searching for a connection and someone to make them feel alive.
brian postalian - guest dramaturg
Brian Postalian is an interdisciplinary performance creator born and raised in Toronto by way of Armenia, Ireland, Wales, and the Czech Republic. Brian was Crapshoot Artistic Producer at Theatre Passe Muraille and Compass Points Curator at Canada's Magnetic North Theatre Festival. ​He has been a guest lecturer at the University of Toronto and Ryerson University and is a proud graduate of the joint University of Toronto and Sheridan College's Theatre and Drama Studies performance program. He is completing his MFA in Theatre as Game Design at Simon Fraser University. He frequents used book stores, rides bicycles, takes photos and is learning how to draw and play the duduk. Brian is the founding Artistic Director of Re:Current Theatre and he is a Cancer. www.brianpostalian.com
​
brian postalian - guest dramaturg
Brian Postalian is an interdisciplinary performance creator born and raised in Toronto by way of Armenia, Ireland, Wales, and the Czech Republic. Brian was Crapshoot Artistic Producer at Theatre Passe Muraille and Compass Points Curator at Canada's Magnetic North Theatre Festival. ​He has been a guest lecturer at the University of Toronto and Ryerson University and is a proud graduate of the joint University of Toronto and Sheridan College's Theatre and Drama Studies performance program. He is completing his MFA in Theatre as Game Design at Simon Fraser University. He frequents used book stores, rides bicycles, takes photos and is learning how to draw and play the duduk. Brian is the founding Artistic Director of Re:Current Theatre and he is a Cancer. www.brianpostalian.com
​