MARCH 21- 24, 2018
LITTLE MOUNTAIN GALLERY
195 E 26TH AVE, VANCOUVER, BC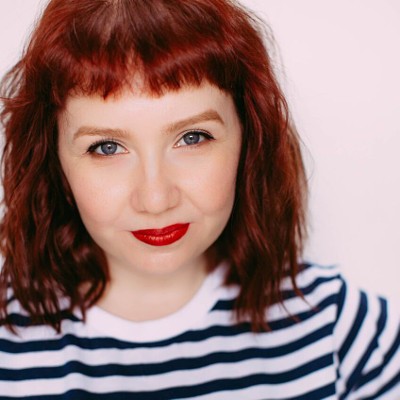 CHEYENNE MABBERLEY
Cheyenne Mabberley is an actress, comedian, and writer from Vancouver BC. Classically trained at Canada's renowned Studio 58, Cheyenne is best known for her show, The After After Party that garnered her notoriety throughout Vancouver's theatre community by picking up the "Critics Choice Award" (The Georgia Straight), "Cultchivating Award" (Vancouver Fringe), as well as Vancouver's "Pick of the Fringe" for 2016.
An advocate for women in the arts, Cheyenne is focused on fostering new female work, including The Virago Play Series and her own not-for-profit organization, After Party Theatre Society. Her produced plays include Karaoke: The Musical (Studio 58,) The New Years Party, The After Party (Pull Festival, Speakeasy Theatre) and The Tiebreaker & The Bush Party (Theatre SKAM.) Cheyenne is committed to writing fierce, female forward plays with heart. Her recent collaboration with Pi Theatres' Provacateurs Series has granted her four uncensored, unabashed, all-female satirical comedic presentations throughout Pi's 2017/2018 season.
Cheyenne is also a successful makeup FX artist, costume designer, and scenic painter, having worked for incredible Vancouver professional companies such as The Arts Club (Angels in America,) Pacific Theatre (The Whipping Man,) Green Thumb (Land of Trash,) Pi (Blasted, Invisible Hand,) and ITSAZOO (The Competition is Fierce, Hidden.)
Recently, Cheyenne appeared in a guest role on Bravo's The Imposters as well as the French-Canadian medical mystery series, Maux Mysteries.
​
KATEY HOFFMAN
Katey is a Vancouver-based actor and writer. As a playwright, she co-wrote The Surrealists, Karaoke: The Musical (Studio 58), The After Party, The New Years Party (Pull Fest), The Bush Party, The Tie Breaker (Theatre SKAM). Recently, Katey and her partner in crime, Cheyenne Mabberley, wrote and performed in the acclaimed The After After Party which received Pick of the Fringe, The Georgia Straight Critic's Award, and will be featured in the Cultch's 2017/2018 season. Last November, her coming-of-age memory play, Green Lake, was produced by Solo Collective and nominated for 6 Jessie Richardson awards including Outstanding Production, winning Jessie's for Outstanding Actress in a Lead Role and Outstanding Direction. As an actor, she has worked for companies such as Green Thumb, Carousel, Caravan Farm, Firehall, Arts Club, Solo Collective, Yogurt, and ATP and this year you can see her on ABC's When We Rise as well as Nickelodeon's Escape from Mr. Lemoncello's Library. Katey is a Betty Mitchell nominee, Calgary Critic's Award winner, recipient of the Touchstone Theatre and Jennifer Wade Scholarships, and a graduate of Studio 58.
​
Susan Miyagishima
Susan Miyagishima is a Vancouver-based theatre professional who mainly divides her time between stage management and prop design. She is very excited to expand into the directing field with this years Pull Festival. Select stage management credits include, Kayak (Alley Theatre), Amish Project, Oleanna (Bleeding Heart Theatre), Wondrous Tales of Old Japan (Carousel Theatre), You Are Very Star, Great Day for Up (Electric Company), King of the Yees (Gateway Theatre-NAC tour), Night Light, Wired, Celestial Being (Green Thumb Theatre), Fifty Words (Mitch and Murray Productions), The Idiot, Are We There Yet? (Neworld Theatre), Genetic Drift (Pi Theatre), The Project (Solo Collective), Mary Poppins (Theatre Under the Stars), Bonjour, là, bonjour, À toi, pour toujours, ta Marie-Lou, Des fraises en janvier,Porc-Épic, Le Portrait Gooble (Théâtre la Seizième), Empire of the Son, 1Hour Photo (VACT), Drowsy Chaperone(Vancouver Playhouse) and three seasons on the Mainstage at Bard on the Beach. Props credits include 1984 (Virtual Stage/Studio 58), Forbidden Phoenix, Around the World in 80 Days, Thoroughly Modern Millie (Gateway Theatre), A Picasso (Presentation House), Life Savers (Ruby Slippers). Le Périmètre (Théâtre la Seizième). Other career highlights include Interim Production Manager at Studio 58, Vancouver 2010 Winter Olympics Opening and Closing Ceremonies (wardrobe venue coordinator) and the Canadian independent feature film Eadweard (Head Set Decorator). She has toured extensively throughout Canada and into the United States, has received a Jessie Award Nomination for Outstanding Stage Management and is a graduate of the University of British Columbia and Studio 58 Langara College.​
PEDRO CHAMALE
Pedro is a first-generation Latinx-Canadian theatre artist who was born and raised in Northern British Columbia, Canada. He received his BFA in Theatre Performance from SFU's School for the Contemporary Arts. He then went on to form rice & beans theatre with Derek Chan. Pedro is a performer, director, playwright and theatre jack-of-all-trades. Selected Credits: Broken Tailbone (Nightswimming), Small Town Hoser Spic & Mis Papás (rice & beans), Are We There Yet? (Neworld Theatre), BullI (Rumble Theatre) and The Show Must Go On (Push Festival).
Pedro was the Artistic Resident at Neworld Theatre in 2014 and currently rice & beans theatre is working on a company collaboration with Playwrights Theatre Centre where they are developing two new pieces The Boy Who Wanted to be a Mannequin by Derek Chan and There Are No Gods Here by Pedro Chamale.
Pedro has also worked behind the scenes with local Vancouver theatre companies such as: Full Circle First Nations Performance, Leaky Heaven, Boca del Lupo, Neworld Theatre, and The Only Animal.
ILANA ZACKON
Ilana Zackon is a Canadian artist who enjoys wearing many hats. An actor, director, singer-songwriter, voice-over artist, writer and producer, she has been involved in the performing arts since the age of three. She recently toured across Canada in Tohu Bohu's The Magical Journey and can also be heard as the voice of Catalyst in Livelock (Tuque Games), as well as Katherina von Dernsbach in Mordheim: City of the Damned (Games Workshop). Ilana is the founder and Artistic Director of Project X Performance, a social issue theatre company originally based out of Montreal. To date, she has directed PxP's first two productions: Part I and in / cognitō: a living art exhibit on mental health. Ilana is very excited to bring her work to the West Coast and is currently developing her first one-woman piece, through her residency at Presentation House Theatre. www.projectxperformance.com
turn to landscape view to see bios
turn to landscape view to see bios